Portrait of a Neighborhood
Bayview / Triangle Community
2006
Madison, Wisconsin
Nancy Giffey, Project Coordinator
JoAnna Been, Photographer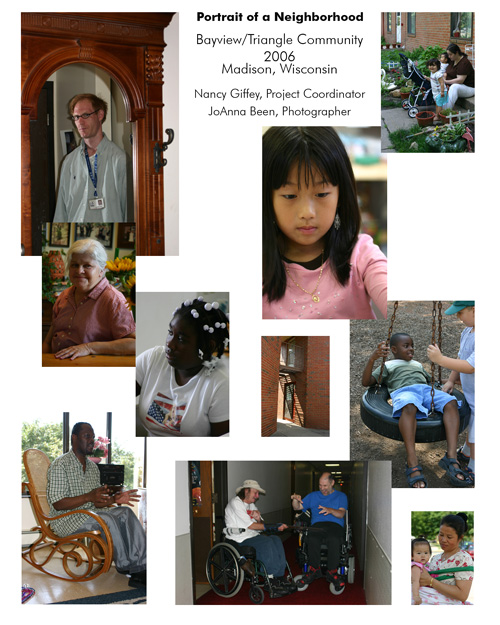 This exhibit contains over 40 photographs of and quotations from Bayview/Triangle Neighborhood residents.
Bayview is home to Wisconsin's largest community of indigent adults with emotional and physical challenges. It is also home to one hundred families. A diverse population that includes Southeast Asian, Latino, African and African American children who participate, free of charge, in ongoing programs at Bayview Community Center. All residential buildings in this Madison near south side neighborhood are subsidized housing.
Portrait of a Neighborhood was created by Nancy Giffey, Bayview Community Center's Artsbridge program coordinator and resident artist. JoAnna Been was the photographer. The exhibit reveals personalities and needs of some of Madison's most vulnerable citizens. It also shows a unique neighborhood that provides a model of support and services for children and special needs adults.
This project was funded by the Dane County Cultural Affairs Commission and the Capital Times Kids Fund.